Bios
History
In the beginning.......
Before there was Goldenflow Studios, there was Twin City Gilding, a tiny operation that consisted of Rollie Reis and me, Dan Mather.
(We put gold leaf on stuff while working from my den)
One fateful day in 1989, Rollie noted how nice the gold leaf looked floating around in the dish of alcohol they used to clean their brushes. She thought that if they could put this 23k-laced solution into something, like maybe a glass hourglass, it would be a really cool idea. So off they go to find a glass producer.
After a twisted and depressing search to find someone to make these new glass things (factories wanted 50,000 piece minimums, artists wouldn't do more than a dozen), Rollie and I ended up enrolled into a local community college to learn to blow the glass ourselves.
By the fifth week of class, the instructor (Satan) declared our fledgling artwork "Monkey [expletive deleted]", and their ambitions futile. Undaunted, we left.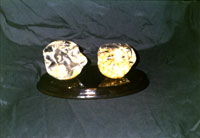 Armed with a confidence normally reserved for the delusional, we set about building a small glass blowing studio in the garage, and proceeded to try and finish teaching ourselves to blow glass.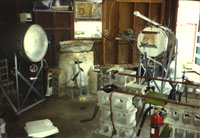 The den served as both office and finishing studio.
And so Goldenflow Studios was born...
As visions of burning down the wood-framed garage kept us up at night, it was soon decided that a more appropriate studio space was needed. Something less combustible, something with a little more brick and mortar. So by February of 1990 we had found a small 300 square foot studio space in NE Minneapolis. At the time 300 feet of space seemed quite large, as it was twice the space the garage had afforded us.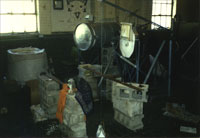 The plan was simple. I would be responsible for the studio, and try to produce as many Goldenflows as I could. Rollie would be responsible for the office, and would try to sell as many Goldenflows as she could. We agreed that what didn't sell would be sent out to stores as samples. So, Rollie and I would go to the local library, photocopy lists of gift stores from business directories, and call them to see who wanted to see a free sample. Simple.
But a funny thing happened. Nobody knew what a Goldenflow was, what it did, or where it should sell. We'd talk to gift buyers and they told us to talk to stationery buyers (because it's a "paperweight"). We talked to stationery buyers and they told us to talk to jewelry buyers (because it's "real" gold). We'd talk to jewelry buyers and they told us to talk to gift buyers (because it wasn't "jewelry"). Just the same, over 1,200 samples went out that first year.
From here we started sending out thousands of postcards telling stores to call us for a free sample. Rollie started displaying at wholesale gift and jewelry shows. She began locating and hiring independent sales reps around the country. I painted the studio and developed finishing systems that could handle more and more production.
But to no avail. By 1995 these distinctive glass and gold snowdomes were selling at a clip of 50,000 pieces a year, popping up in literally thousands of stores, across all 50 states, and worldwide to over 6 (OK... that's not so many, but hey, we weren't even trying) different countries. Our 300 square foot studio had grown in five short years into an unwieldy 4,500 square foot warehouse/studio/office behemoth. We had clearly transitioned into our second worst nightmare.
In spite of now running three furnace stations, five glass blowers, and four glass finishers, I couldn't keep up. For Rollie's part, she was managing a dozen independent sales groups (with more than 60 sales people between them), an in-house telemarketing team of five, and a couple more processing staff. 70 hour workweeks wasn't our idealize vision of success.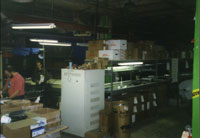 As we began to lose control (as if we ever had real control) over staff and systems, both product quality (they started leaking) and customer service ("If I have to field one more 'leaking' call…") began to, um, falter.
Our response was three-fold; bring in a professional adhesives engineer to help us identify and permanently solve the leaking issues, greatly reduce marketing efforts until we were positive the problem was solved once and for all, and reduce staff and return to doing our processes ourselves.
After laying low and otherwise succeeding in these corrective measures, we undertook one more major change; Rollie went back to school to get her business degree. (We figured in a worst-case scenario at least one of us should be employable)
These days Goldenflow Studios is still chugging merrily along, producing more than 15,000 Goldenflows a year. While not as intense as the heady Go-Go days of the mid-90's, the product never looked cleaner, the systems never ran as efficiently, and my days aren't greeted with the fear and loathing that was so common when we were at our peak.
And Rollie, having since graduated [Summa Cum Laude, no less], is currently helping other business owners deal with their own success-fueled nightmares, as well as those who want the kind of success that a 70 hour workweek enjoys, as a business consultant.